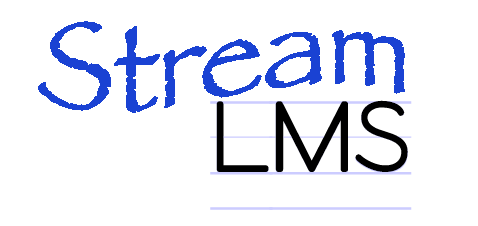 The Learning Management System for Rich Media Training
Seattle, WA: +1 (425) 956-3570
Vancouver, BC: +1 (604) 628-1933

StreamLMS is an easy-to-use, affordable, flexible and secure Learning Management System (LMS) optimized for video, VR and other rich media training.
Fully hosted for you as an online service (SaaS), StreamLMS allows you to quickly customize, deliver and manage training for multiple organizations, or for multiple groups of trainees within your organization.
Curriculum Management
Using only a web browser, your administrators can assign training for all trainees in your organization or client firms, or for groups of trainees defined by any combination of descriptive information, such as their location, department or role. One-off assignments can also be made to individual trainees.
Courses can be sequenced, given prerequisites, assigned due dates and pre-scheduled for compliance-related repetition cycles.
Without having to drill down into buried details, trainees will see at a glance which courses are assigned, when they're due, what their status is for that course, and can display course descriptions without leaving the menu page.
Curriculum menus can be presented in a defined sequence set up by the training administrator, or explored using a hierarchical, subject category menu that is automatically generated, based on descriptive subject categories that you assign to your courses when installing them.
Our affordable Premium Tier feature includes emailed reminders sent to trainees according to your customer's business rules, letting individual trainees, or their supervisors, know about new assignments and upcoming due dates.
Content Development
Install any video course on StreamLMS, edit a quiz online using our quiz-design tool, and you're ready to go live with Video-On-Demand training.
You can also design multi-media courses using our Interactive Coursebuilder, included with your license. These courses can include video, text & graphic slides, custom backgrounds, embedded quiz questions, remedial loops, voiceovers, and transition effects. Use the Coursebuilder to create your course from scratch, or import a slideshow from your favorite presentation tool and enhance it for online training.
If you prefer, you can also design courses using many third-party design tools, or obtain multimedia courses from outside producers, and install them as industry-standard SCORM Sharable Content Objects (SCOs) on your site. We even have mechanisms to support launching VR training delivered through Virtual Reality headsets.
Customized Appearance
Nearly all of the features in StreamLMS can be configured using online forms ... the type of training report, the style of menu that trainees will see, who will have supervisory privileges, the registration data managed for trainees in a particular organization ... all of this can be configured in your web browser.
If using our platform for multiple end-customer organizations, you can upload a corporate logo for each organization to easily co-brand a customer's training site. Each customer organization gets a distinct URL for their trainees to use, and all branding is kept between your organization and your customer (the name "StreamLMS" appears only in the required privacy disclosure notice ... and no, we don't share information with anyone.)
You can also provide a custom background ... beyond just logos ... for our login page and the Certificate of Completion that we generate for trainees.
You can further customize the entire experience by embedding StreamLMS in your CMS, integrating it with a broader website. Our "pass-through access" capability, similar to but easier to set up than Single Sign-on, lets you log in trainees directly by adding a couple of lines of Javascript code to your web page.
Distributing Your Courses
↴
Courses that you install on StreamLMS can be easily shared with customers who have their own LMS, while maintaining control over your intellectual property and enforcing your license terms. Your customer simply downloads our special SCORM wrapper from our website, then installs that on their LMS like any other SCORM-standard course. Courses that you license to them will be available on their LMS.
When trainees launch a course, it will briefly "check in" with StreamLMS in the background, verify license compliance, record the transaction for your management reports and immediately deliver the course content to the trainee's browser from our server. Trainee progress, scores and course completion are reported to the customer's LMS, so that they have all of their records in one place.
Need to update a course? Edit the video? Change the quiz? No problem; just make your changes in StreamLMS and they will automatically be reflected in what customers see on their own LMS. No need to send out updates.
If you're sending a course to another StreamLMS licensee acting as your distributor, we make it even easier: just a couple of mouse clicks on your system, and on theirs, and the course is available for use with the same tracking and reporting features. They can even send out our SCORM wrapper for your courses to their clients, including your video-on-demand and Coursebuilder courses, and have the usage show up both in their reports as your distributor, and in your reports as the copyright holder.
Licensing Your Courses
If your business licenses training to customers, StreamLMS provides you with several tools to manage license compliance.
Courses can be assigned with course-specific headcounts, with unlimited use during a specified date range, or with an "aggregate trainings" setting that lets your customer apply a purchased allotment of credits to several courses they license from you. Aggregate Trainings licenses reflect a weighting for courses with different per-use prices. Training credits can be cumulative, or can expire in line with subscription agreements.
As customers approach the limit of their license, your sales team is automatically notified by StreamLMS to begin renewal discussions.
StreamLMS's Preview Registration Feature lets you send a form to prospective customers with which they can select courses to preview from your library. Customers receive an email with links to each course they're interested in; each course can be played up to six times, with a "Preview Only" spoiler automatically overlayed on the course content, and links back to your sales department for follow-up. Of course, this preview activity is also automatically reported to your sales team.
Management Reports
Our system provides detailed training and license reports for individual organizations, and overall reports to get a higher-level summary of activity on your site. These reports are sortable, filterable, adjustable (think "pivot tables"), can be drilled-down to finer levels of detail, and are downloadable as spreadsheet files.
The detailed, company-specific training reports are available to both you and to designated training supervisors at customer firms ... and can easily be set up so that supervisors only see activity for the groups of trainees they supervise.
What Does This Cost?
At StreamLMS, we believe you should be able to anticipate what you'll be paying all year at the beginning of the year. So we keep our pricing simple, flat-rate, and remarkably affordable.
A multi-client account (for training producers, distributors and other organizations that are selling or providing training to multiple clients) includes:
An initial one-time setup fee of $5,000 (USD) to set up your LMS account. Training your staff is included.
$500/month for licensing, database hosting and support.
A variable fee for content hosting that is tied to the number of course files you install on our servers, but is very competitively priced. Most licensees pay $50/month for content hosting, while very large organizations with hundreds of courses installed might pay $150 - $200 per month.
That's it! No per-customer fee, no per-trainee fee, no per-course or per-session fee.
We do offer some additional services, such as an optional "Premium Tier" that your end-customers may subscribe to for $50/month. Premium Tier lets local training supervisors at your customer firms create one-off, individual assignments of the courses they've licensed from you (as opposed to the group-level assignments that you would generally set up for them). Premium Tier customers can also have email notifications and reminders sent by our system to trainees in their organizations.
Organizations licensing StreamLMS only for in-house use pay a $2,000 setup fee, $300 per month for licensing, database hosting and support, and content hosting fees generally in the $50/month range.
Try It Out!
Our thanks to Quality Media Resources for letting us use a couple of their Human Resources courses for this demo.
Take a look at how StreamLMS might appear for a trainee.
Contact Us
Please contact Ron Rosell at StreamLMS if you have questions, or would like an online demonstration of our system.
Seattle, WA: +1 (425) 956-3570
Vancouver, BC: +1 (604) 628-1933